We provide accurate surveillance service using GPS tracking: we follow a person from a distance with a reduced possibility of being seen.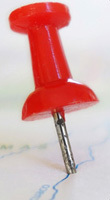 Why this service?
Because we have been operating since 1958 to seek the truth thanks to a worldwide network of skilled and reliable detectives. Through new technology and the best devices, we assure discretion and accuracy.
What are the pros of GPS tracking?
a reduction in hours dedicated to tailing
reduction of costs
more accurate and professional services
high discretion and accuracy
Please call us for a free consultancy: on comprehending your needs we would be able to recommend the perfect service for your needs.
All documentation is also available in English on request.